Paul Hedges has been our trainer and horse handler 
for many years now we have enjoyed our success in the show ring
and the dressge ring thanks to his training.
Paul is also an amazing breeder and horse stud owner
of spanish/egyptian arab horses and is very successful in the international rings.
Paul currently has some young proven stock for sale.
Enjoy your tour and enjoy the photos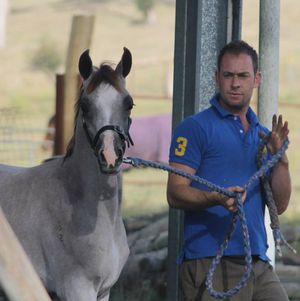 The Following are offerd for sale
contact Paul Hedges 
pthedges@gmail.com
Offering for sale on behalf of client.
The stunning half arabian filly Celestion Devine Tranquility 
sired by Jotaris Kazim, and out of the American Saddlebred mare Ironbarks Final Edition,
Devine is tall elegant and moves on air. Weaned and in prep for the up and coming foal shows. Please contact via PM or email pthedges@gmail.com